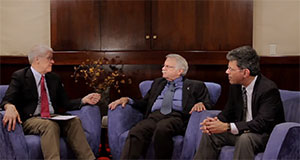 CME Front Matter
STATEMENT OF NEED
Chemotherapy-induced nausea and vomiting (CINV) is one of the most debilitating toxicities associated with cancer treatment. Inadequate control of CINV may not only increase the risk for subsequent emesis but also potentiate inadequate control of nausea and vomiting from other causes in patients with progressive cancer. The introduction of novel antiemetic drug classes, most notably 5-HT
3
and NK
1
receptor antagonists, has improved prophylactic strategies, but progress is still needed in our understanding of how to optimally combine antiemetics. Although evidence-based guidelines provide a roadmap for CINV management, treatment must be tailored to individual patients, with a focus on regular monitoring, education, and timely interventions by the entire cancer care team.
TARGET AUDIENCE
Oncology physicians, oncology nurses, and other health care professionals involved in the treatment of patients with cancer.
LEARNING OBJECTIVES
Upon completion of this activity, participants should be able to:
Describe risk factors for CINV
Differentiate safety and efficacy data on antiemetic drug classes
Devise a supportive care plan for patients at risk for CINV
Note: The learning objectives listed above apply to nurse practitioners and registered nurses in addition to physicians.
ACCREDITATION
Jointly sponsored / Co-provided by



This activity has been planned and implemented in accordance with the Essential Areas and policies of the Accreditation Council for Continuing Medical Education through the joint sponsorship of USF Health and i3 Health. USF Health is accredited by the ACCME to provide continuing medical education for physicians. USF Health designates this enduring material for a maximum of 0.5
AMA PRA Category 1 Credit™.
Physicians should claim only the credit commensurate with the extent of their participation in the activity. USF Health is accredited as a provider of continuing nursing education by the American Nurses Credentialing Center's Commission on Accreditation. A maximum of 0.5 contact hours may be earned by learners who successfully complete this continuing nursing education activity. Provider approved by the California Board of Registered Nursing, Provider Number 13307, for 0.5 contact hours.
COMMERCIAL SUPPORT
This activity is supported by an independent educational grant from Eisai Inc.
DISCLOSURE OF RELEVANT FINANCIAL INFORMATION WITH COMMERCIAL INTERESTS
USF Health and i3 Health endorse the standards of the ACCME, ANCC, and ACPE that require everyone in a position to control the content of a CE activity to disclose all financial relationships with commercial interests that are related to the content of the CE activity. CE activities must be balanced, independent of commercial bias and promote improvements or quality in healthcare. All recommendations involving clinical medicine must be based on evidence accepted within the medical profession. A conflict of interest is created when individuals in a position to control the content of CE have a relevant financial relationship with a commercial interest which, therefore, may bias his/her opinion and teaching. This may include receiving a salary, royalty, intellectual property rights, consulting fee, honoraria, stocks or other financial benefits. USF Health will identify, review and resolve all conflicts of interest that speakers, authors or planners disclose prior to an educational activity being delivered to learners. Disclosure of a relationship is not intended to suggest or condone bias in any presentation but is made to provide participants with information that might be of potential importance to their evaluation of a presentation. USF Health does not endorse any products or services. Relevant financial relationships exist between the following individuals and commercial interests: Dr. Kris has no disclosure to report. Dr. Grunberg discloses that he is on the advisory board of Merck and serves as a consultant for Helsinn, Tesaro, and Redhill Biopharma. He is on the speakers' bureau for Eisai and Merck. He is shareholder in Merck. Dr. Ettinger has no disclosures to report. Planning Committee, USF Health OCPD staff members, i3 Health staff members, and the peer/content reviewer for this activity have no relevant financial relationships to disclose. Disclosures are on file at the University of South Florida, Office of Continuing Professional Development.
UNAPPROVED USE DISCLOSURE
USF Health and i3 Health require CE faculty (speakers) to disclose to attendees when products or procedures being discussed are off-label, unlabeled, experimental, and/or investigational (not FDA approved); and any limitations on the information that is presented, such as data that are preliminary or that represent ongoing research, interim analyses, and/or unsupported opinion. Faculty will discuss information about pharmaceutical agents that is outside of U.S. Food and Drug Administration approved labeling. This information is intended solely for continuing medical education and is not intended to promote off-label use of these medications. If you have questions, contact the medical affairs department of the manufacturer for the most recent prescribing information.
DISCLAIMER
The information provided at this CME/CE activity is for continuing education purposes only and is not meant to substitute for the independent medical/clinical judgment of a healthcare provider relative to diagnostic and treatment options of a specific patient's medical condition.
METHOD OF PARTICIPATION
To receive credit, participants must view both videos, complete the evaluation form, and answer 3 out of 4 of the posttest questions correctly.
DATES AND DURATION
Release Date: April 15, 2013
Expiration Date: March 31, 2014
Estimated Time to Complete: 30 minutes
TECHNICAL REQUIREMENTS
A broadband internet connection
Operating system: Microsoft Windows XP or later; Mac OS X 10.4 or later; iOS 5.0 or later
Web browser: Microsoft Internet Explorer 7.0 or later; Mozilla Firefox; Google Chrome; Apple Safari; Apple Mobile Safari
Adobe Flash Player 9.0 or later (Available at: http://get.adobe.com/flashplayer/), if running on desktop
EQUAL OPPORTUNITY
Events, activities, programs and facilities of the University of South Florida are available to all without regard to race, color, marital status, gender, sexual orientation, religion, national origin, disability, age, Vietnam or disabled veteran status as provided by law and in accordance with the university's respect for personal dignity.
CONTACT INFORMATION
If you have technical queries about this site, please contact
info@thedoctorschannel.com
. If you have credit related queries, please contact
cpdsupport@health.usf.edu
.
PRIVACY AND INFORMATION REQUIRED
USF Health Office of Continuing Professional Development (OCPD) has created a privacy policy to demonstrate our commitment to guarding the privacy of our clients. The following statements disclose our practices on gathering and disseminating information for this web site. The OCPD has security measures in place to protect the loss, misuse, and alteration of the information under our control. The OCPD does not share or sell any individual's contact information, financial information, or unique identifiers to any commercial supporter, advertiser, or third party without the specific permission of the individual. If you have any questions about this privacy policy, please contact the Office of Continuing Professional Development, USF Health OCPD, at
cpdsupport@health.usf.edu
.
COPYRIGHT STATEMENT
All documents accessed from this page are viewed as a resource of USF Health (
http://health.usf.edu
) and i3 Health (
http://www.i3Health.com
). Copyright © USF Health and i3 Health. All rights reserved.